Thankfully, radio rock has stopped taking its meds.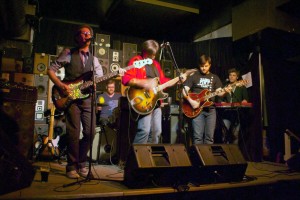 This new Chicago music outfit features members of Kerosene Stars, Mooner, Wells-next-the-Sea, and Youngest Son. With the melodic sensibilities of Elvis Costello, fueled by power-chord enthusiasm and air-tight chord changes, the quintet (Damon Alexander, Lee Ketch, Dann Morr, Scott Schaafsma, and Steve Slagg) barrels through each song with raw grit and effortless precision. It's rare for a power pop group to produce complex and carefully crafted songs that also thoroughly rock—but these lads have done it, and the resulting tracks are both frenetic and thoughtful, creating songs that are great through hifi speakers, and even better in headphones.
High Energy Physics' EP was recorded, mixed, and mastered by Mike Hagler (Wilco, Neko Case) at Kingsize Sound Labs in Chicago, IL, November 2012, and produced by Mike Hagler and High Energy Physics.
Releases